Helping growers manage their most valuable asset: Soil!
Are you a crop adviser who wants to make a difference to your clients' profitability?
Are you looking for tools to help growers utilize their existing data to manage their production risk?
Do you feel that growers deserve better than what they currently get from their input dealers?
Do you believe that a grower's profitability is closely aligned to the ideals of environmental sustainability?
Map your client's fields
Use the latest technologies to manage your business database. Map your clients' farms, fields and other facilities. Map them directly or import them as ESRI Shapefiles. Direct connectivity with proprietary formats coming soon.
Keep good records
Use the Field Events module to document all the action that happens on the field. A nifty drag-and-drop interface allows you to capture more data without filling tedious forms. Direct integration with weather and nutrient loss monitoring means that you get field specific insights as the growing season progresses.
Use this information in negotiating rents or land sale values, or to file crop insurance paperwork. Integration with insurance filing and manure registration coming soon.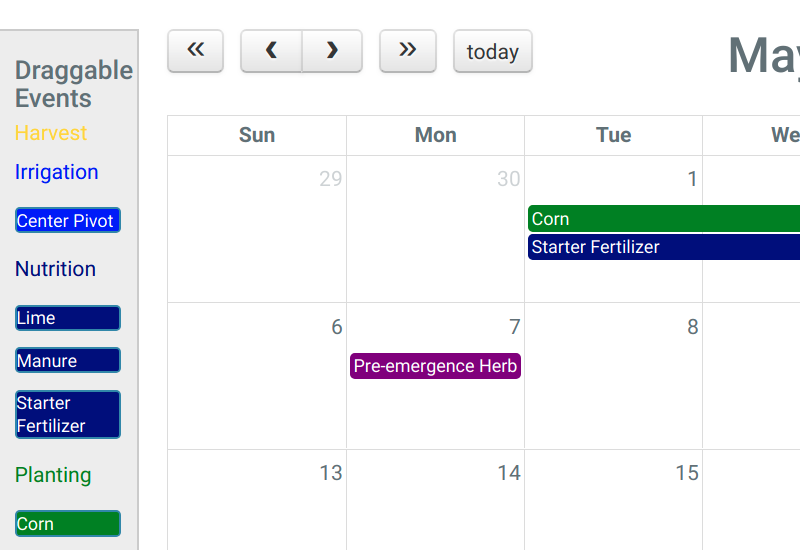 Analyze Field Variability
Use our proprietary algorithm that allows you to generate field variability analysis on your clients' entire land portfolio, one field at a time using their existing yield, planting, as applied and soil / plant test data.
Show them where their fields are vulnerable to loss, where they need better drainage, or where they could chase higher yields. Help them understand the interplay between the lay of the land, the soil biology and their management practices and the impact on their bottom line.
Make Recommendations
Help growers become more profitable through optimized placement of fertilizer. Work with a partner lab providing the Soil Diagnostics, Inc. FertiSaver-N test that uses multiple soil chemistry parameters to determine where you can save fertilizer and where you can boost yields.
Combining soil test results with field variability analysis is a powerful new way to exploit your precision agriculture equipment for maximum profitability.